Steps
6 steps to experience Esthecil professional service
Design
1500+ styles meet every need
At Esthecil, each time we design eyelash extensions we make sure the design fits your eye/face shape. Besides we also make sure the volume of the lash extensions won't damage your own natural lashes.
If you have some pictures of design you like don't hesitate to bring them to our salon, we are going to tell you if we can do it and if it fits you 🙂
STYLE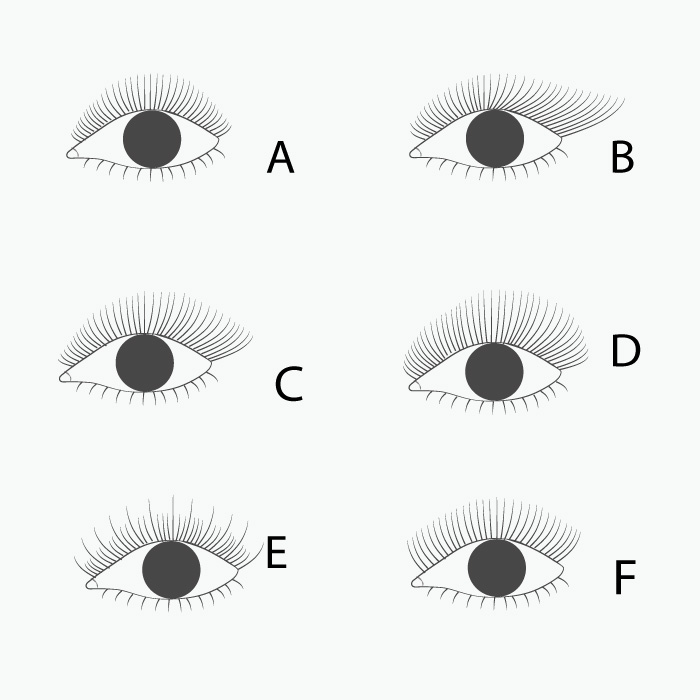 A, D and E fit natural look.
B and C create eyeliner effect.
TYPE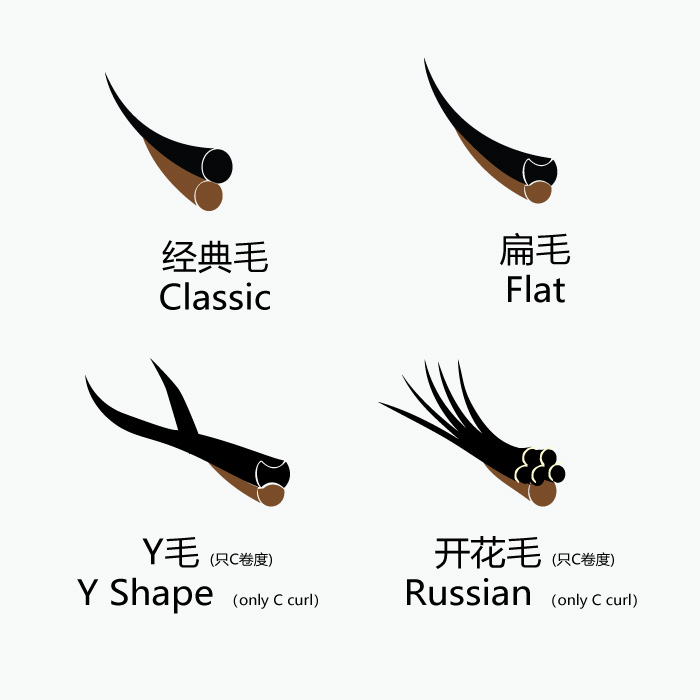 Classic : the thinner the extensions are the more comfortable you feel.
Flat : thick but very soft and comfortable.
Y Shape : Very dramatic looks.
Russian Volume : Same as Y Shape, but with more nature looks
CURL
J curl : Natural effect.
C curl : Magnifying effect.
D curl : Superstar effect.
THICKNESS
0.05mm : only Russian Volume
0.07mm : Classic lash and Y shape
0.10mm : Classic lash
0.15mm : Classic lash
0.20mm : Classic lash and Flat lash
LENGTH
8mm : All type of lash
9mm : All type of lash
10mm : All type of lash
11mm : All type of lash
12mm : All type of lash
13mm : All type of lash
15mm : only Classic lash
Price
Same price what ever the volume you choose
Price depends on the type and thickness of the lash. So our price range is from 480 RMB (70$) to 980 RMB (140$). Moreover price is the same whatever the number of the lashes we apply ! Also 1 free refill (touch up) within 7 days is included !
Sometimes you do not come for the free refill because of holidays, business trip, lasting very well, etc; we provide a refill with fee 100 RMB (15$) within 14 days. Unlike what it is done in abroad (Us / Europe / Australia ), we don't do any refill after 14 days as you own natural will grow and refill won't give great results. Anytime you need, you can come for a new set or removing the remaining lash extensions for free.
Lash Type
Regular Price
First timer price
(For every 100 RMB get 20RMB OFF)
Package Price X3
(-15% OFF)
1 Free Refill within 7 days
OR
Reffil with Fee 100 RMB within 14 days.
1 Free Refill within 7 days
OR
Refill with Fee 100 RMB within 14 days.
1 Free Refill within 10 days
OR
Refill with Fee 80 RMB within 14 days.
Classic 0.20mm
480 RMB
400 RMB
1200 RMB
Classic 0.15mm
580 RMB
480 RMB
1470 RMB
Classic 0.10mm
680 RMB
560 RMB
1710 RMB
Classic 0.07mm
780 RMB
640 RMB
1980 RMB
Y Shaped 0.07mm
780 RMB
640 RMB
1980 RMB
Flat 0.20mm
880 RMB
720 RMB
2250 RMB
Russian Volume 0.05mm
980 RMB
800 RMB
2480 RMB
Finally for regular customer and eyelash addicts, we highly recommend our VIP card :
VIP 3X : 15% OFF
VIP Normal : 20% OFF
VIP Silver : 25% OFF
VIP Golden : 40% OFF
All membership provide 1 free refill within 10 days.
Please contact our salon for more information about our price and current promotion.
Gallery
Before After Pictures
Products
Save & high quality
Esthecil and its salons are only using professional products. Indeed, Esthecil's products are all imported through the formal channels from South Korea, and pass the inspection and testing from the national authority. All products have company's packaging logo contained company and product information in Chinese.
Premium Lashes
The lashes you love
They are of high-quality synthetic fiber material, purely handmade, and went through a 200-degree high temperature and a sterile environment. Their advantages are to be comfortable, soft, of natural curl and not easy to deform.
Large panel of choice:
As Esthecil consider that every woman's eyes and desires are different from one another, we created an extremely large panel of choice, for the only purpose of satisfying every single one of our customer. Esthecil's large panel of choice is composed of 3 kinds of curliness, 4 kinds of thickness, 6 different lengths.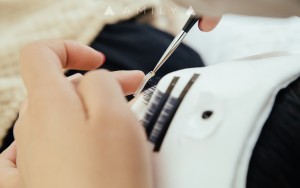 Premium Glue
The glue you love
As said above, our three different glues are all of high-quality, imported from South Korea and have all passes the required certifications KC as well as the international ISO9001, and 2000 certification, guarantee safe and qualified as professional glue.
Take a look as the description of these three different glue which are all totally safe and controlled.
FAQ
Frenquent Asked Question
Follow Esthecil on :